Providing customers using film set pavilions with convenient system of equipment suspension is one of the main tasks during film and television shooting. GLAVKINO complex chose solution from Sofit Light, purchasing 224 STAGEMAKER SR5 hoists.
GLAVKINO film and television complex was founded in 2008. Today it has nine equipped film studios with a total area of 21,000 m2. It is here that the shows are filmed, such as "You are Super", "Where is the Logic", other programs for TNT and other popular channels. Pavilions of the complex are also involved in filming of big cinema and popular television series.
Even a year ago, to accommodate lighting equipment and scenery in the shooting pavilions, customers had to invite climbers, lay lines and solve other tasks of working at high altitude with the risk to their lives. It took time and money. Management of the complex faced with the need to extensively modernize "stuffing" of the pavilions. The main goal was to develop a system of independent suspensions which would reduce time required for installation and ease the task of preparing pavilions for filming. Sofit Light project became the ultimate solution.
"We had a goal to provide our customers with the opportunity to use an automated suspension, since we have very high ceilings, not everyone has access to them, but this is necessary for work," said Vlad Mazurov, head of the directorate for customers operations. "Sofit Light managed to submit such a project proposal that we were satisfied with, then to develop the project in full scope, and to successfully implement it."
"For our company, this is the largest sale of hoists to such a significant customer as GLAVKINO. We offered STAGEMAKER hoists of new generation to the management and technical specialists", says Arkady Shakhidzhanov, Director of SOFIT LITE. "The feasibility of introducing innovation from VERLINDE has been estimated for several months. Considering all the advantages, specifications, and price/quality ratio, preference was given to our proposal."
Sofit Light specializes in complex equipping of facilities (theatrical/entertaining) of culture, sport, leisure, and business with light, sound, stage, and low-current equipment. The company has its own design office and production base. It provides equipment supply, installation supervision, training, warranty and post warranty service. Since 2011, Sofit Light become the official distributor of VERLINDE, and actively uses STAGEMAKER equipment in its projects.
VERLINDE is a leading manufacturer of lifting and transport equipment. The plant of the company was founded in France in 1858. In 1975, after the launch of the first electric lift STAGEMAKER Litachain L104, VERLINDE successfully entered the market of professional equipment for the show industry and became the world leader in the production of electric chain hoists and lifting mechanisms for the stage. STAGEMAKER electric chain hoists are designed to work with stage and theater equipment, providing accurate load positioning, smooth and silent lifting.
VERLINDE annually provides maintenance training of STAGEMAKER hoists for dealers. Employees of Sofit Light are officially certified by VERLINDE and will provide after-sales service of STAGEMAKER hoists for GLAVKINO. It is clear that such a scope of purchased equipment requires high-quality maintenance, and availability of service is very important part of equipment and after-sales support complex for GLAVKINO.
Denis Chuvilkin, head of the hardware complex in GLAVKINO: "After collecting feedback from companies that have been using STAGEMAKER hoists for many years, we took into account a large number of positive recommendations. STAGEMAKER hoists, indeed, justified our choice: besides the laconic design and reliable uninterrupted operation, we were surprised by hoist motor soft working – low noise during filming is very important."
Installation took place in difficult conditions – equipment had to be located in pavilions occupied for shooting, that could not be cleared. In some pavilions we had to work only during intervals between shooting, and all the scenery remained in place, while climbers worked atop.
According to the installation diagram, hoists were mounted together with trusses. It is possible to strengthen the structure if necessary, for this part of the hoists are stored in the warehouse. Full installation took 4 months, during this time about a thousand meters of trusses and 216 hoists were mounted. Load capacity of STAGEMAKER SR5 model is 500 kg, and for this project was used D8 version with double brake.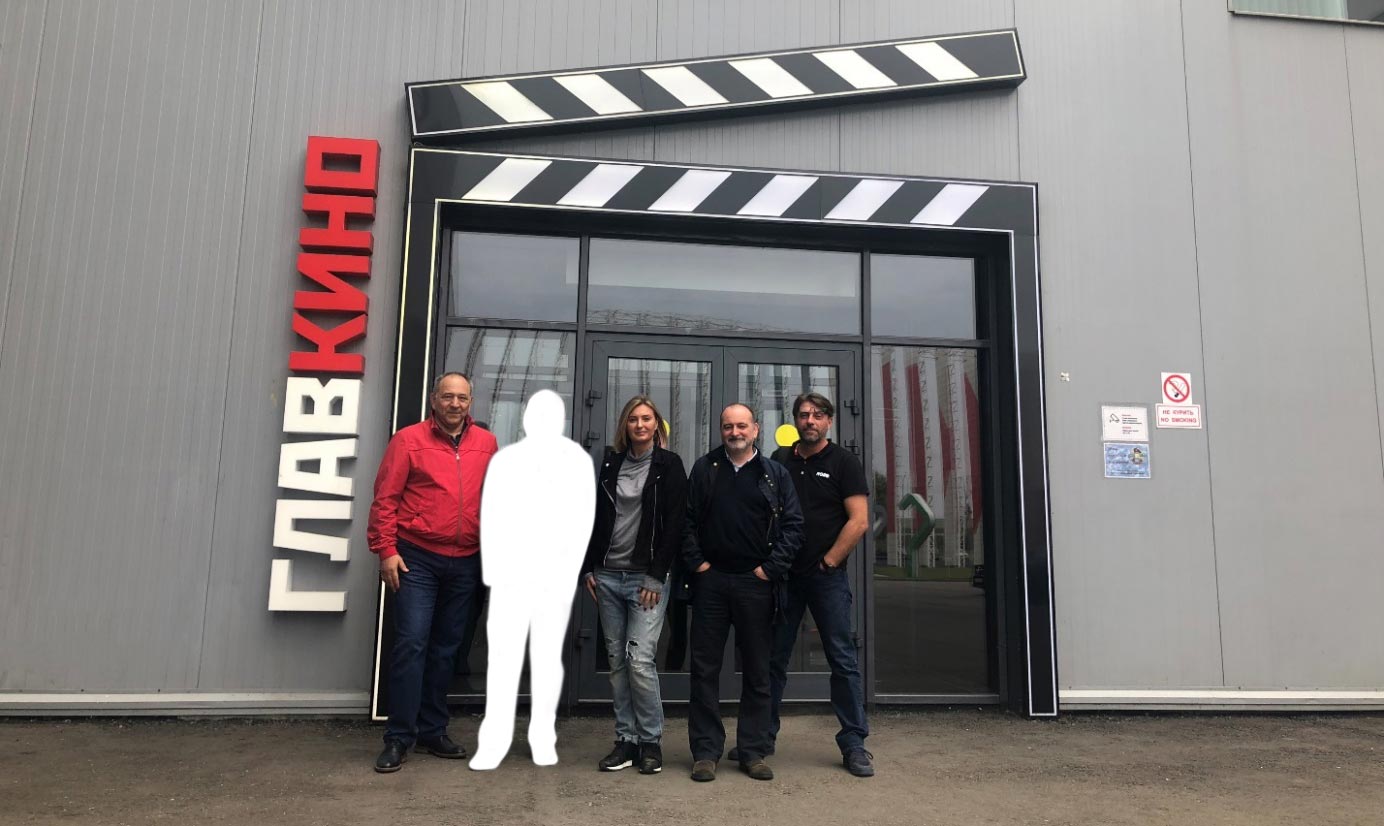 Representatives of VERLINDE and GLAVKINO during the visit to the facility. From left to right: Arkady Shakhidzhanov (General Manager of Sofit Light), Margarita Kovaleva (Representative of STAGEMAKER in Russia and the CIS), Jean-Yves Beaussart (Sales and marketing Manager of STAGEMAKER), Alexander Gromov (Senior Manager of Sofit Light).